At MyoFix we combine Moxibustion with Remedial massage. As we know Moxibustion is a heat treatment (burning of specifically chosen herbs) that stimulates circulation through penetrating the meridian points and creating a greater level of blood flow and QI (energy) throughout the body. It is especially good for back pain, menstrual cramps and arthritis as it removes toxins, moisture and cold from the body and promotes the body's self-healing mechanisms and increases overall energy levels. Moxibustion paired with Remedial massage is an especially effective form of treatment when combine together as our therapists are able to use different techniques to help release chronic pain and engage a deeper level of QI within the body.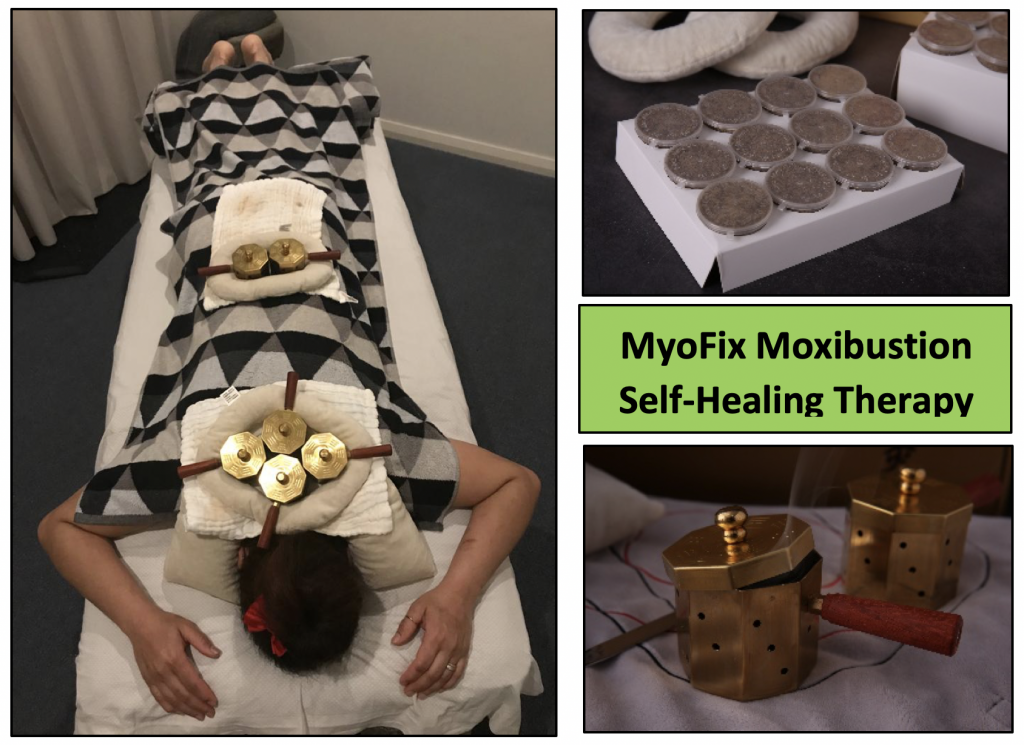 Moxibustion is traditionally used for:
Pain due to injury or arthritis, especially associated with "cold" where the pain naturally feels better with the application of heat
Digestive problems and irregular elimination
Protection against cold and flu strains
Some other potential "bonuses" that may result from having our MyoFix Moxibustion Self-Healing Therapy are weight loss, elevated internal energy levels, improved sleep, improved digestion, improved alertness and focus, lower stress and many more.
The MyoFix Moxibustion Self-Healing Therapy typically comprises of a 7 day (can be consecutive days or once every two days) therapy that might be repeated at a specified interval which depends on a case to case basis. Most clients undergoing the MyoFix Moxibustion Self-Healing Therapy may develop some reactions or sensations such as itchiness, rashes, sweatiness, some pains etc. that last for a short period after which will subside. These are temporary conditions that are expected and not to be alarmed for as they are a good indicator that the MyoFix Moxibustion Self-Healing Therapy is starting to work and the body's Self-Healing process is starting to kick in.
Client Feedback from MyoFix Self-Healing Therapy
Frequently Asked Questions
What are the benefits of Remedial Massage?

A remedial massage can provide a number of benefits which can include but are not limited to:

Relieving aches and pains
Stimulate blood flow & improve circulation
Increasing flexibility and joint mobility
Reducing anxiety and depression
Reduce stress and more

If it is your first visit, you will be requested to arrive 10 minutes early to fill out a Client Intake Form. This allows the massage therapist to be aware of any health concerns you may have.

Is Remedial Massage painful?

Reduce stress and more

While remedial massage can be a relaxing experience, it is dependent upon the pressure you can tolerate as to what sensation your body will experience. Remedial massage is a highly skilled technique where the massage therapist can locate the problem area which is causing the pain and discomfort. It is very important to communicate to the therapist when things hurt and if any soreness or pain you experience is outside of your comfort range. There is usually some stiffness or tenderness after a remedial massage, but it should subside within a day or so.

How does Remedial Massage work?

Remedial massage works on localised areas of your body to break down muscle spasms (knot) and soften up the hard tissue to release any stiffness. Regular massage is an effective treatment to bring back muscle strength and tone. Remedial massage helps to relax the muscles, making musculoskeletal adjustment easier.

What is the difference between Physiotherapy and Remedial Massage?

Physiotherapy is the assessment, diagnosis and treatment of conditions which result in pain, restricted movement, weakness and altered mobility caused by degeneration, illness or accident. Physiotherapists are qualified to use electrotherapy such as TENS and ultrasound. Traction, manipulation and mobilisation of jaw/limb and vertebral joints are also utilised.

Remedial massage therapy is a hands-on treatment to soften tissue and restore function, relieve pain, promote healing and decrease muscle spasms and/or tension to improve physical or athletic performance. Remedial massage stimulates circulation and improves blood flow to the localised area.

Both physiotherapists and remedial massage therapists are able to prescribe strengthening exercises, stretches, balance exercises and postural training.

Can you exercise after a Remedial Massage?

Many massage therapists recommend clients avoid strenuous exercise for at least 24 hours after a bodywork session.

Strenuous exercise includes activities such as running, high intensity aerobics, weight lifting or power yoga classes.

What is a Remedial Massage Therapist?

A remedial massage therapist has completed extensive studies and has a detailed knowledge of the muscular system, the function of the body and most common conditions and treatments for said conditions.

Can I claim any health rebates from my Remedial Massage?

If you have a private health fund, such as HBF, then you may be eligible to claim money back for your remedial massage. Please be aware that at MyoFix Massage you can only claim for remedial massage for health funds where our massage therapists have an approved provider number for you to claim against.

Health Fund rebates are available for remedial massage at MyoFix Massage through a number of health funds, including HBF. Depending on the level of your health cover, you may be eligible to claim money back.

We have a HealthPoint machine (similar to HI-CAPS) available so you can claim on-the-spot, allowing you to only bare the cost of the GAP payment. Please be mindful HealthPoint does not recognise all health fund providers, thus it may be necessary for us to generate an invoice for you in which you can manually claim through your health care provider at a later time. We can provide your invoice either via email or print you a hard copy.
If you have further questions which have not been answered here, be sure to head over to our FAQ section on our website.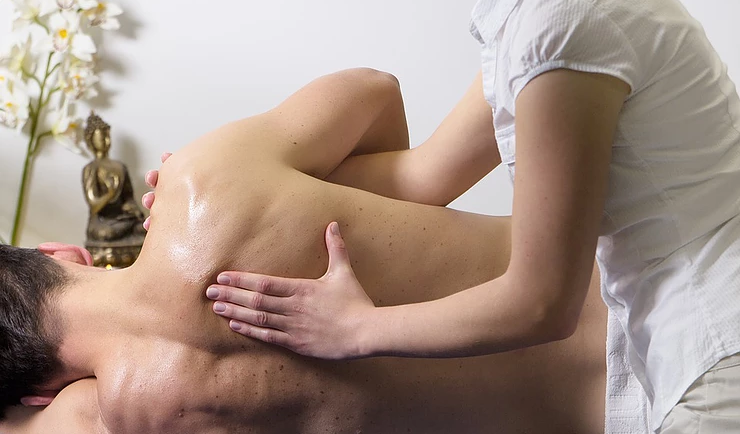 Trial Massage available
HEALTH FUND REBATES APPLY
30 minutes - $55
If the therapist feels that the session has turned sexual for the client, male or female, he/she may stop the session to clarify the client's intent, and may decide to end the session immediately.